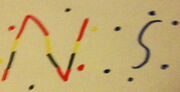 Welcome to the NS World Wiki
Edit
NS World is an upcoming TV show about five Little League players who live in a parallel universe, Webkinz World.
NS World features Zane Park, Adrian McCarthy, Stuart McCarthy, Mr. Purple, and Willard Renner.
South Africa vs. Wales
Edit
South Africa's National Quidditch team is playing Wales in Matzikama tonight, and NS World Wiki is all for South Africa. Wales is trying to prove Quidditch World Cup CDXXV wasn't just a fluke, and that they can still beat South Africa, but the Wiki is going pink for South Africa's robes and using their flag as a tile for the background.  Quamalamalam (talk) 14:41, April 27, 2013 (UTC)
South Africa Wins!!!
Edit
South Africa defeated Wales by a final score of 67,940 - 66,530 in a three-day match ending at 1:34 PM, Eastern Standard Time with an amazing Snitch catch by South Africa Seeker Petrus Smith. Quamalamalam (talk) 20:26, April 30, 2013 (UTC)